RICE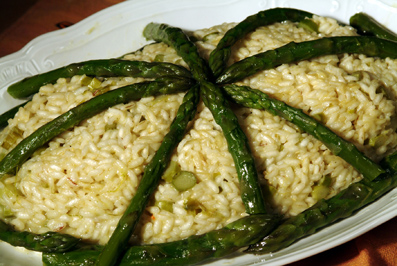 In 1475, the Duke of Ferrara was presented with some exotic seeds. The donor was Gian Galeazzo Sforza, the Duke of Milan, who had grasped the need for a new cereal that could feed a populace weakened by epidemics, endless wars and famine. However, it took several decades for rice cultivation to thrive and only by the mid-Sixteenth century had rice fields expanded tenfold from 5,000 to 50,000 hectares.
Today, Italy is the foremost rice producer in Europe, with over 233,000 planted hectares situated, in decreasing order, in the provinces of Vercelli, Pavia, Novara, Milan, Alessandria, Ferrara, Oristano, Mantua, Verona and in smaller areas of central and southern Italy.
Being a tropical plant, rice requires adequate temperature and humidity. Although in the course of time it has adapted to continental climates, it still needs protection from extreme temperatures, and this is the function of water: it takes 3,000 to 10,000 litres of water to produce one kilo of rice.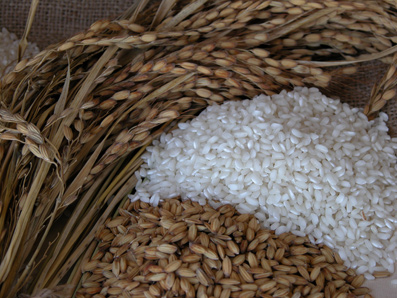 Cultivation was once completely manual, and not until the 1950's was mechanization fully implemented.
The cycle comprises four main stages: soil preparation, seeding and flooding, weeding and harvesting. The paddy rice is then dried up and refined: each kilo of paddy yields about 600 grams of edible rice. Rice has a high nutrition value, containing proteins and carbohydrates, as well as fat, sodium, potassium, calcium, phosphorus, iron and vitamins.
Vercelli and its environs have long been identified with rice. Situated halfway between Turin and Milan, it was founded by the Gauls, and under Roman domination became a trading and military post. It would be fun to imagine Roman soldiers and civilians eating rice, maybe with frogs, another local speciality, but it would be anachronistic, considering that the Greeks and Romans used rice as a spice and not as a staple food.
Rice cultivation was introduced in this area by Cistercian monks in the sixteenth century: the fields were donated by Marquis Ranieri Monferrato and now belong to the Lucedio Princedom. The success and renown of this rice was such that even Thomas Jefferson is said to have visited the area hoping to find new varieties of rice to bring back to the new-born United States.
Local rice dishes have their origins in peasant cuisine, which required food to be filling and cheap. Thence the combination of rice and beans (enriched by herbs, lard and, where available, sausages and other ingredients) as the basis of Panissa and its many local versions, and the many imaginative ways of cooking frogs, very numerous in this area.